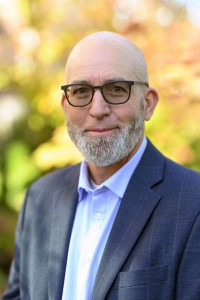 Robert Ethington has been selected as the Interim Vice President of Student Services effective July 1, 2022. He has been serving the college as Senior Dean of Students at Santa Rosa Junior College since 2018, providing administrative oversight for areas that include Student Life, Student Health, Facilities Use, Student Resources, Student Conduct and Grievances, the Intercultural Center, the Sawubona Center, and Food Services and Bookstore operations. He started at the college in 2000 as the Student Activities Advisor and in 2006 became the Director of Student Affairs; in 2014 he was selected as the Dean of Student Affairs & Engagement Programs. He also served as an associate faculty member for 13 years teaching leadership development, and also in the Counseling department's Human Services program.   Some of his past and current initiatives and projects include the new student housing development, the Measure O campaign committee for Mental Health Resources, developing the first Student Resource Center and Basic Needs program, co-authoring the first Sustainability Green Print, developing the free transportation program for students, and the transformation of B:CARE to a Trauma-Informed, Restorative Justice framework.
Robert Ethington holds a Master of Science degree in Student Affairs in Higher Education from Colorado State University, and a bachelor's degree in Educational & Counseling Psychology from the University of Missouri. After graduate school, he traveled around the world with Semester at Sea, worked as a Social Worker for an HIV/AIDS agency, and eventually found his way to California and Sonoma State University as a Resident Director. After SSU and before coming to SRJC, Robert Ethington led ropes courses and adventure training for schools and businesses and worked for Social Advocates for Youth, the Drug Abuse Alternatives Center, and Petaluma People Services Center. Robert Ethington is a musician and songwriter, loves working in his garden, and is an outdoor adventurer, or as his kids call him, a "wanderer." His educational passions include social justice, student equity, sustainability, leadership development, and community building.
He is committed to his work supporting the success and development of students with the support of his wife, Amy, who is a Student Advisor for EOPS/CalWORKs/Foster Youth. They have three kids, Jake, Emma, and Annie, two of whom have Associate degrees from SRJC.